Sixth Form Super Curricular and Enrichment
The Super-Curriculum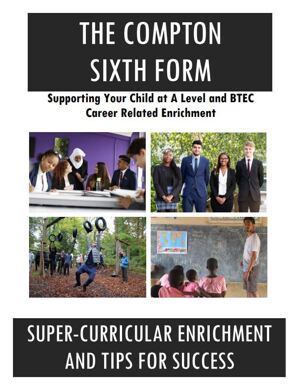 Our Super-Curriculum encapsulates all those activities that foster academic endeavour beyond the measurable outcomes of examination results. It includes (but is not limited to) wider reading, debate, public speaking, research, lectures and study trips. Each department will provide a range of subject specific enrichment opportunities designed to enhance students' interest and understanding. During the year staff will signpost students to these opportunities.
Subject specific enrichment is designed to:
Enhance students' understanding, enthusiasm and love for their subjects
Develop a wider knowledge of the subjects students study and the broader issues surrounding them
Promote opportunities for wider-reading that can then be used for personal statements and job/university interviews
The key message from universities is that they want to see what students have done to show their dedication towards studying their subjects, and these opportunities are a perfect example.
Please see the bottom of this page to download your copy of the Super Curricular booklet.
Enrichment
We provide a wide and interesting range of enrichment opportunities at Sixth Form level. This includes the provision of extra-curricular activities, the opportunity to complete work based experience and a number of specific Sixth Form day and residential trips which includes several trips abroad. There are lots of opportunities to work with the rest of the school including Peer Mentoring opportunies, Charity work and through committees on the Sixth Form Leadership Team. Please see below for the current programme of opportunies. This is updated regularly.
Enrichment

Details and who to see.

Model UN Club

Working as a group to discuss and debate various political issues. See Ms Wijesinghe for further details.

Young Enterprise

Open to Business BTEC students – see Mr Lyons

Paired reading with EAL students

Helpers required for paired reading on Thursday's during PDT to help students who use English as an additional language. Year 12's to help with the organisation and running of the club – see Ms Oakley for further details

TA support for Key Stage 3 EAL students

Students to help support KS3 students who use English as an additional language in their lessons – See Ms Oakley for further details.

LRC Support

Sixth Formers to help in the LRC during busy periods any keen chess players could always run a chess club after school – See Ms Marshall for further details

Drama Leaders

See Ms Kurland for further detail

Maths TA's

Year 12 students to work with Year 11's in their Maths lessons and support – See Mr Neilson for further detail.

Exposure Magazine

Online publishing

Creative communications

Harnessing technology

Workplace skills

• Articles, news reports, short stories

• Reviews, interviews, poems

• Images, graphic design,

• Podcasts, short films

See Ms Keefe for further details and to sign up.

Waste Wise Environmental Project

There are three desired project outcomes:

Awareness - Young people in partner cities will become aware of the importance of climate- friendly food consumption behaviours, policies, and food systems;

Engagement - Young people will become able to raise awareness, campaign, and actively engage in the promotion of practices for sustainable food systems (this is creating youth activists);

Communication/Outreach - Young people in partner cities will engage with a wider EU audience on the importance of sustainable food consumption and urban food policies to tackle climate change.

Sign up via Miss Keefe

Podcast

Students required to support The Compton School Podcast and also to Set up and run the Sixth Form Podcast – see Mr Janner Klaussner

Sixth Form Leadership Team

See separate application available from Monday 6th December.

EPQ

Extended Project Qualification – see Mr Cartella for an application form. Deadline 16th December

Peer Mentoring/ Academic Mentoring

Working with students across the school to have weekly mentoring about how to manage issues and concerns. Also runs as part of the Mentoring Team in the Leadership Team.

Coding Club support

Working with Ms Yarwood to support students in the KS3 Coding club – preferable that you study Computer Science

Science Club

Monday and Thursday – see Ms Shuman for further details.

GCSE/ KS3 Spanish Support

A Level Spanish students to support in GCSE or KS3 lessons – see Ms Cabeza for more information.

Kings College – Medicine and Dentistry

A programme of lectures about different specialities within medicine and dentistry.

Support with UCAT applications (entrance exams that all medicine applicants take), personal statements and interviews.

Medicine/dentistry is competitive. If you are serious about studying medicine at university, you need to apply to this.

See Mr Moulton to sign up – Deadline 10th December

Sports enrichment

Playing for sporting teams within school – see PE Department for further opportunities.

KS3/4 Subject specific TA.

If you are interested in supporting students in KS3 or 4 in a particular subject not previously mentioned – please see Ms Keefe to request.